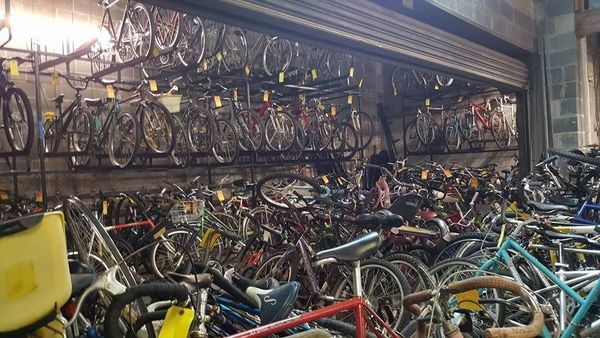 Vélocity Bicycle Cooperative's Fall Warehouse Sale is Saturday October 19th from 9am to 1pm! Our warehouse is located behind 1502 Mount Vernon Avenue (behind Al's Steakhouse).
Our warehouse sales are a great way to find a new daily commuter, vintage restoration project, or something for the weekend farmers' market run. We have hundreds of as-is bikes to choose from starting at $20 and a few ready-to-ride bikes starting at $100! The as-is bikes will need a little work and we are happy to assist you with any repairs, parts needs, or advice at our full service shop located at 2111 Mt Vernon Avenue.
**In addition to bikes, we'll be offering as-is bicycle car racks during the sale for a "Pay What You Want" price. We have roof mount bars and risers, bike trays, hitch mount racks, and trunk mount racks. All are sold as-is, might be missing components, and we can't guarantee they'll fit your vehicle. But, they're cheap, generally in good condition, and might save you a few hundred dollars!
Volunteers will be standing by to answer any questions and help you find the right bike for you.
If you're driving, there is parking on Mt. Vernon Ave and various side streets. We're about a half mile walk from the Braddock Rd. Metro station, and there's a Capital Bikeshare dock on Mt. Vernon in front of Al's Steakhouse. Please do not park in the alley.