Teen Earn-a-Bicycle Program
Vélocity is proud to have given away hundreds of bicycles through our Earn a Bicycle Scholarship Programs to local teens in the City of Alexandria Public School System.
Earn a Bike recipients volunteer in the shop during open shop for 20 hours and they'll pick out a bicycle from our storage to refurbish as their very own for free.
Benefits of participating in our Youth Earn a Bike Program include developing patience, discipline, and perseverance.  We offer teens a safe, nurturing, and educational environment which reinforces teamwork, hard work, and entrepreneurship.  Participants will receive hands on learning of tangible skills and problem solving.
All recipients are required to complete a free 3 hour bicycle maintenance course which we'll cover the ABCs of bike maintenance.  You'll learn 90% of all of the standard maintenance items which we come across.
Youth Earn-A-Bike recipients will serve 20 hours to earn themselves and in addition receive:
A refurbished, safe, quality bicycle
Headlights and taillights
Lock
Helmet
All Earn a Bike recipients may continue to volunteer with Vélocity after they've earned their bicycle, to earn benefits such as free Do-It-Yourself bike repair stand time if they volunteer more then 10 hours in the previous month.  They will also be eligible to earn free lightly used parts and have all of the same benefits as described in the Volunteer with us page.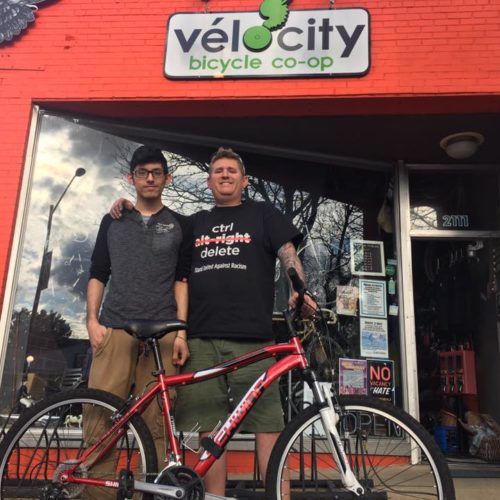 Youth Internships
After Teens complete our Earn A Bike Program, teens are allowed to enroll in our internship where they'll be able to increase employability and allow them to compete with the general public for jobs. They will also have opportunities to communicate with customers, help maintain the coop, inventor, and find mentors in staff.
This program targets 14-18 year olds who may lack a support network and find impediments to employment.