Velocity can't exist without  our dedicated and inspired volunteers and board of directors to support our mission of building strong communities through growing and empowering biking as sustainable transportation. We're all focused on instituting the foundational standards needed to ensure Velocity Bicycle Cooperative is viable and will be here to support our area for many generations to come.  If you're interested in learning how you can get involved.  Please see our getting involved pages.
John Patterson
Co-Founder
Along with Christian Myers, John Patterson co-founded Velocity. In his other life, John was a UN staff member in New York through 2008, and continues as a consultant supporting UN agencies and non-profits engaged in international development. In 2014, John moved to California but continues to assist VéloCity as a Board member, and spends time riding his VéloCity nurtured 1987 Bianchi brava along the streets and beaches of LA.
Bayley Vanderpoel
Operations Management Committee Chair
Bayley got involved in Velocity as a volunteer in 2012 when he got tired of putting a hole in his wallet by paying for tune-ups and felt it was time he learned to do it himself. He continues to become more inspired by all the work that Velocity does in the community and has really enjoys the tight knit Velocity volunteer community.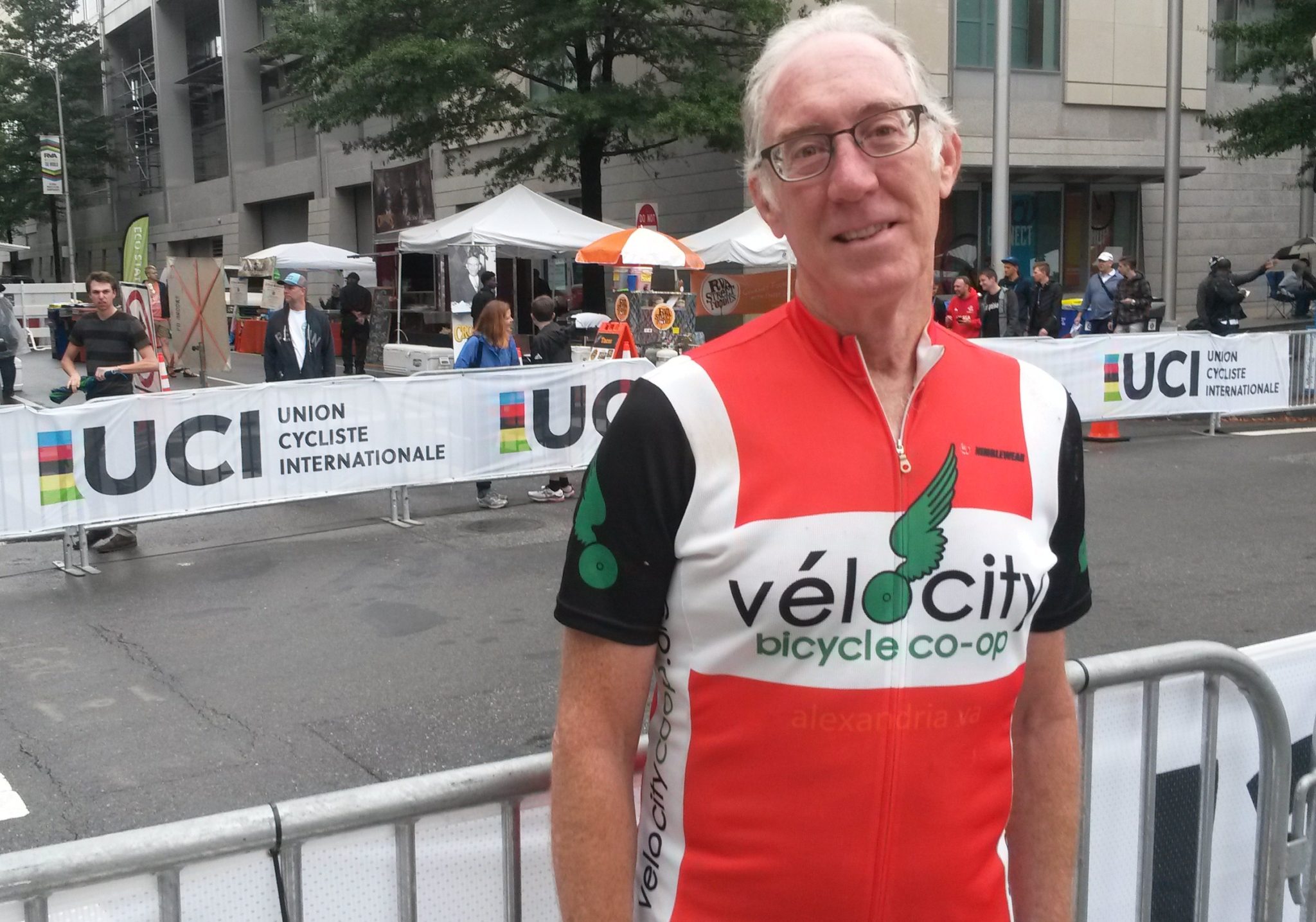 I have been biking since hauling newspapers in a front basket on a balloon tire Schwinn Tornado. I learned basic maintenance and repair during my college years from the owner of a one-person shop, Fuji Cycles of Worcester. Since then I have seen the strength of community and came to volunteer at Velocity to give back and both learn from and spend time with fellow bike people. I look forward to seeing you at the shop and warehouse.
Joe Davison, has been volunteering with Velocity since 2015, became Velocity's Events Coordinator in November 2017. He's responsible for making sure all of our Community Programming Events are a success and that everyone had a great time. Joe's known as Velocity's most hardcore cyclist. Commuting from his place in Northeast DC to Falls Church Skyline regularly in all weather ranging from hot and muggy to snow and wind. He's also known for his bike tech and gadgets, a love of catching live music with his girlfriend, and traveling abroad several times a year.
Kevin Dunne
Development Committee Chair
Kevin is a development consultant and outdoors junkie with a huge passion for helping others in his community. He is involved on several non-profit boards and runs a small communications company, Logos Risk Management. He believes in Velocity because of its unique approach to empowering local bicyclists, bettering their lives and their communities.
Mike Pattisall
Operations Management Committee Member
Mike Pattisall is one of Velocity's original volunteers. He's had the pleasure of serving on our board since 2012 and as chairperson from 2014-2016. He loves collecting bikes and is known for leaving silly stuff around the warehouse to liven it up.
Co-Founder and Shop Manager
Christian Myers
Christian Myers is one of Velocity's founding fathers, He serves as the Bike Coops manager and Community Outreach Coordinator. Other then bicycles, he's an expert in tattoos, muscle cars, ACDC, fishing, and telling funny jokes. When he's not at the shop or spending time with his family at home, he can often be found at Nationals Park catching a game.
Kyle Goodwill
Volunteer Coordinator
Kyle, our dedicated leader since 2015, is responsible for organizing our Community Programming and providing guidance to volunteers. When he's not volunteering, you can probably find him engineering software, combing his long lush beard, drinking fine dark beers, or spending time with his girlfriend and their cats.
Bill Cleveland
Youth Programming Chair
Bill Cleveland is a retired Capitol Police Officer, serving for 37 years. His first passion is working with youth. He's been a mentor in the City of Alexandria mentorship program since 1999. He's excited to coordinate our Youth Programming efforts and ensuring our staff and volunteers have everything they need to fulfill our mission of building community through Youth Educational Development. "I believe all our youth have skills they don't develop. There are a lot of them that can use our program to help develop the skillsets to become more well rounded individuals."
Raymond Florant
Webmaster & Designer
Ray began volunteering with Velocity in 2016, after moving to DC from a yearlong, around-the-world backpacking trip. Working professionally as designer and webmaster at his day job, he supports the organization with technical or artistic skills when the need arises. Ray bicycles to work everyday, riding by the Velocity shop, and helps out in the warehouse when he is able. In his free time, he likes to homebrew beer and play sports.
Zach's been volunteering with Velocity since 2015. If you know Zach but don't know that he's a proud Vermonter, you're merely only an acquaintance. He has twins in high school and is Velocity's resident Cyclocross enthusiast.
Paul Toler
Volunteer Orientation Coordinator
Paul is our ambassador to all new volunteers. He's happy to help get you involved in our organization through an orientation, training, and provide unique opportunities for you to support us based on your skills and interests. Paul's been an avid rider and commuter since High School. Paul's a Landscape Architect by day. He can usually be found either spending time with his fiancé at their place in Old Town, hanging out at the coop, going for a ride on a nice day, or trying to catch a Hokies Football or Basketball game.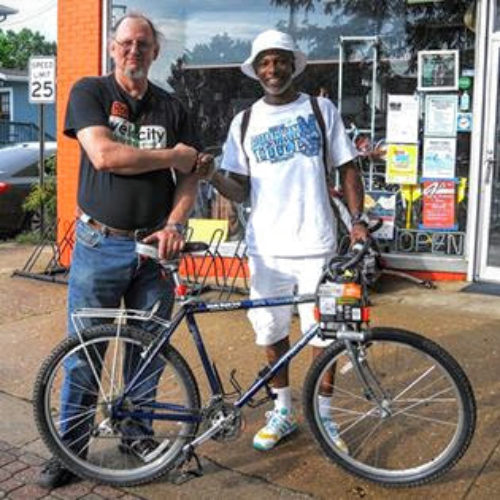 Ron Kellis
Lead Bicycle Mechanic Instructor
Ron, a former aircraft mechanic and maintenance test pilot, has been turning wrenches most of his life. He joined the co-op in October of 2010 telling Christian "I know enough to be dangerous." After a month Christian agreed. After the co-op moved to Mount Vernon in 2012, Ron became known as Mr. Wednesday night for his consistent volunteering during open shop. As the primary Basic Maintenance instructor he's taught over 200 students in 85 classes to date.
PJ has served as our Quartermaster since 2016. He's responsible for making sure volunteers have the supplies they need and that inventory is effectively managed. He rides a cargo bike to work where he's a Marine Biologist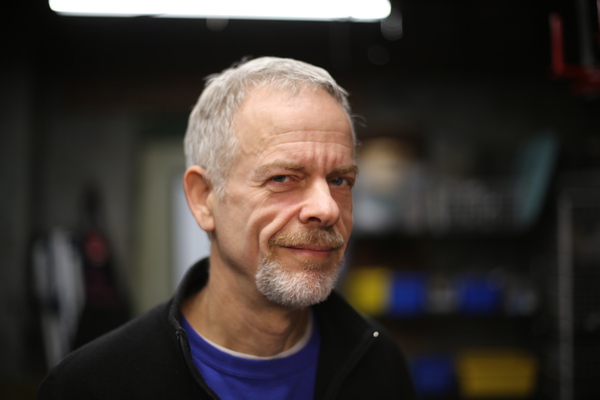 Jerry's been volunteering with Velocity since 2014. He's been a longtime enthusiastic bike tourist since he retired in 2010, every year spending the late part of his summers traveling the world with his Bike Friday, meeting new people along his way, and experiencing different cultures. He's fluent in French and is Velocity's reigning bake off champion. He met Bayley Vanderpoel, as neighbors in 2010 and got involved with Velocity as a regular volunteer shortly after Bayley did so. He particularly enjoys supporting Velocity's Pop up bike shops, and ensuring our community all have access to safe, reliable bicycles.